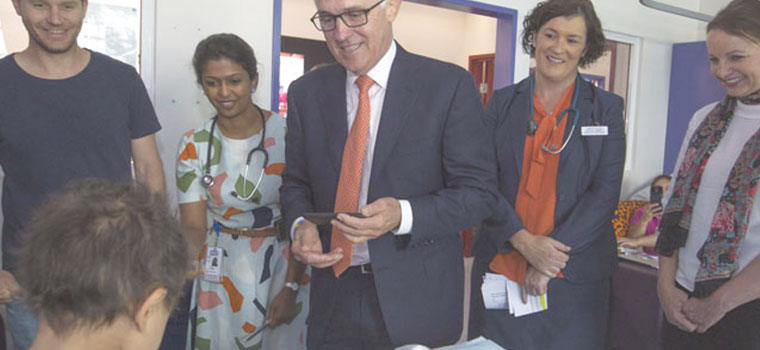 The Prime Minister expressed his support today for Australia's single-biggest initiative in childhood cancer research, the Zero Childhood Cancer national child cancer personalised medicine program.
"The Zero Childhood Cancer program is a wonderful initiative. It is a great national priority. It is designed to ensure that we deliver precisely the right drug in the right way, focused on the particular tumour of the particular child. In other words, highly targeted therapy that does less damage to other organs," said the Prime Minister.
"This is a network. It is a new level of collaboration across the country and indeed across the world. It means better collecting and sharing of the vital information about the types of tumours, children's response to treatments and the outcomes of the treatment. And most importantly of all, of course, it means new hope to children, their families, to quicker diagnosis, speedier treatment and better outcomes."
A cheque for $20M to assist with funding the personalised medicine program was presented by the Prime Minister at a ceremony at Sydney Children's Hospital, Randwick, which is jointly leading the program with Children's Cancer Institute.
Professor Glenn Marshall, Clinical Lead of Zero Childhood Cancer, is Head of Translation- al Research at Children's Cancer Institute and Paediatric Oncologist, Kids Cancer Centre, Sydney Children's Hospital, Randwick. He said that the funding represents a significant boost to personalising treatment for the worst kinds of childhood cancer.
Read more https://ccia.org.au/20m-federal-government-personalised-medicine-zcc/